Building with Rhyolite
July 2014-April 2015
Test your knowledge of local rocks. See tools used in the quarrying and cutting of Castle Rock RHYOLITE. Mined/Quarried from 1872-1906 millions of tons of rhyolite were shipped all along the Front Range. See current pictures of the more than three dozen mansions, churches, and buildings built using Castle Rock rhyolite from Colorado Springs , Castle Rock, Denver, and Cheyenne Wyoming.
Continental Divide Raceway
On Permanent Display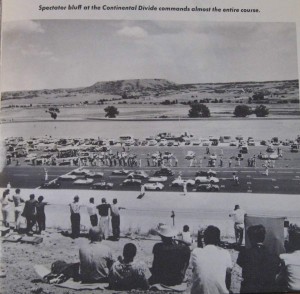 Continental Divide Raceways was a combined 2.66-mile road course, a half-mile oval and a quarter-mile drag strip located about 2 miles south of Castle Rock, Co, between Denver and Colorado Springs on the west side of Interstate 25. It opened in 1959 and was closed about 1983 when the land was sold for development. This was one of the premier race tracks in America during the heyday of sports car racing in the 1960's.
CDR was in a great natural location. It was a wonderfully challenging and entertaining track for competitors. The road race and drag race spectators were able to view all the action from the stands located on the hillside overlooking the track.
A number of USAC and SCCA professional races, including on Trans-Am race, were run at CDR. The track attracted racers such as Mario Andretti and A.J. Foyt as well as stars like James Garner and Dick Smothers. Drag racers such as Tommy Ivo and Don Garlits were other notables from the racing community that appeared at the track. The track closed for a time after an accident in 1979 in which a driver died, another person in the pit lane was killed and several others were injured. The track reopened in 1981 for motorcycle racing and at least one sanctioned SCCA race. Various driver schools were held at the track through 1983 including the BMW Car Club's nation Oktoberfest.
Although the site was sold for development, little actual construction has taken place. The track itself was plowed up so that it could not be reopened as a racing facility. The Castle Rock Museum chose to remember this brief but exciting part of Castle Rock history with a major exhibit in 2009 and now has a permanent exhibit on display at the museum.